The year 2020 is an important milestone for academic planning at York University, marking the conclusion of the University Academic Plan (UAP) 2015-2020 and two other visioning and planning documents, the Provostial White Paper ((2010-2020) and 2020 Vision (1992-2020).  This year provides an important opportunity for the University community to reflect on progress on priorities and look ahead to the next UAP, with the renewal process led by the Academic Policy, Planning and Research Committee of Senate in collaboration with the Provost and Vice-President Academic.
UAP Renewal Timeline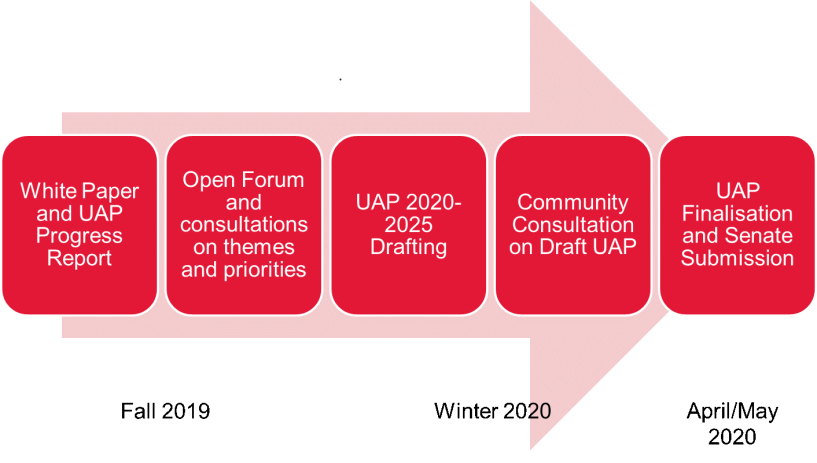 UAP Renewal Resources
25+ Years of Achievement: A Retrospective
Consultation Questions
UAP Consultation Presentation
UAP Renewal Consultations
Input from faculty, students and staff will be sought through Open Forums, in-person consultations, an online survey and written submissions. Faculty Councils will be encouraged to discuss this important topic.
Written submissions may be sent to the Academic Policy, Planning and Research Committee at info.univsec@yorku.ca.
November 7, 2019: Open Forum on UAP 2020-2025, Keele Campus, New/Second Student Centre, 2nd Floor, 9:30 to 11:45 am
Please click here to view a Livestream of the open forum
Additional Resources
University Academic Plan 2015-2020
University Academic Plan 2010-2015
Provostial White Paper 2010-2020
Strategic Research Plan 2018-2023
2020 Vision