Randy Williamson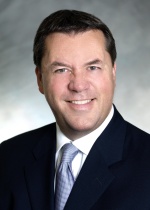 "Working in business and law led me to understand the impact businesses can have in their communities. Working in community organizations is something I've been doing my whole adult life and I`m proud to bring my commitment to community service to York."
It started with a phone call to the Dean of York University's Osgoode Hall Law School.
After earning a business degree, his CPA, CA designation and then a law degree from Osgoode in 1988, Randy Williamson spent several years at a top Bay Street law firm before returning to business in the mid-1990s. Over the next decade, he helped to turn around a multi-billion dollar industrial products company, bought two other companies and launched a third, providing critical services to businesses of all sizes.
After selling the last of his businesses in 2004, and briefly running a national charity, he returned to Bay Street, currently a senior partner at law firm Aird & Berlis LLP, where he focusses on key strategic needs of owner-operated businesses and their investors, as well as on innovative organizations, particularly those focussed on sustainability.
On returning to a law firm, Randy thought he should mentor future lawyers. He knew and called Osgoode Dean Patrick Monahan to ask how he could help. Within a year, Randy had joined both the Osgoode Dean's Advisory Council and the York University Alumni Association Board (YUAB). He spent 12 years with the YUAB.
In 2013, while YUAB chair, Randy joined the York University Board of Governors. He has served as Chair of the Pension Fund Board of Trustees and of the Board's Investment Committee, and is currently Chair of its Land and Property Committee.
His commitment to community runs deep. Randy is a 30-year volunteer with Big Brothers and Sisters of Canada, Chairing its National Board and twice named Toronto's Big Brother of the Year. He has also helped manage and raise funds permitting Toronto's St. James Cathedral build its new Cathedral Centre and was Vice-Chair of The Atmospheric Fund, a non-profit investor in innovative sustainability and GHG reduction initiatives.
For his commitment to community service, Randy was recognized in 2002 with the Queen Elizabeth II Golden Jubilee Medal.