David Mochon S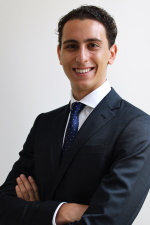 "I want to bring meaningful change to help York students, by serving as a liaison to enhance communication and advocate for students' needs and concerns"
When David Mochon S. announced in April 2020 that he had been named the new Student Governor for York University's Board of Governors, the accolades started streaming in across social media. Their messages — "I cannot wait to see what you achieve!" "Well deserved." "Congratulations!" — said a great deal about the confidence, trust and support he has engendered in York's undergraduate student body.
The fact that his first act as governor was to thank the students he represents says even more about his commitment to the role.
"This campaign has been such a life changing experience for me, and I am proud and honored to take on the position as the undergraduate representative, to be the one to advocate for students' needs to be met by making campus life more affordable, providing students with increased opportunities, and more," he wrote.
David is an honours business administration student specializing in finance at York's Schulich School of Business. In addition to his studies, he holds a part-time job as a customer experience associate at TD and volunteers as a Hillel York student engagement intern, connecting students to the Jewish student organization's programs and events.
"As a Schulich student, I wanted to be involved in university decisions that have an impact beyond the business school environment," he says of his decision to campaign for the Board of Governors role.
He looks forward to utilizing his academic and volunteer experiences to inspire meaningful change and advocate for students' needs and concerns during a time of heightened anxiety and uncertainty.