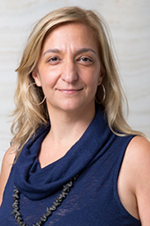 BFA
Francesca Accinelli was appointed to the Board of Governors on July 1, 2018 and serves as a member of the Academic Resources Committee and the External Relations Committee.
Francesca began her career as a cultural administrator in theatre before eventually moving into television production. She has spent the last 15 years working with producers of film, television and digital media. For the past nine years, she has held progressively senior roles for Telefilm Canada—a federal cultural agency dedicated to developing and promoting the Canadian audiovisual industry. At present, she serves as Telefilm's Director of Communications and National Promotions. Prior to this, she held numerous roles, including Director, CMF Program Administration, English market and Deputy Director, Television Business Unit, English Market.
During her time at York, Francesca was a recipient of the Murray Ross Scholarship and was involved with Vanier College Productions. Prior to being a student, she spent significant time at York attending the York Youth Connection Day Camp.