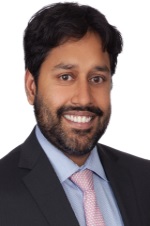 BBA (Hons)
David Garg was appointed to the Board of Governors on February 27, 2019 and serves on the Investment Committee. He is also a member of the Pension Fund Board of Trustees.
David joined Scotiabank in 2003 attaining progressively senior roles from entry level Analyst to his current role as Managing Director & Head of the Canadian Financial Services Corporate & Investment Banking practice. During his time at Scotiabank, David has spent considerable time mentoring and recruiting university students from across Canada having led Scotiabank's Investment Banking campus recruiting program for several years.
David holds a Bachelor of Business and Administration (Honours) degree from the Schulich School of Business (2003) and has five siblings all of whom attended York University and successfully completed an undergraduate degree at the school.
David has demonstrated a keen interest in giving back to the community through his support of the United Way, participation in the organizing committee for Kerry's Place Evening for Autism and volunteer guest lecture appearances for the Schulich SB/SGMT6050 Mergers and Acquisitions course.